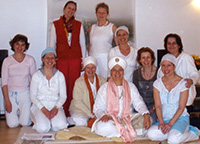 Yogi Bhajan brought Kundalini Yoga to the west and along with it a conscious way of living to become healthy happy and holy. He dedicated every summer to teach women specifically to care for themselves, to become self empowered and to impact their homes, families and their communities with universal values of consciousness.
He often said that the state of a nation is reflected in the face of its women. The claim that he stood behind was that when men of the world respect women, there will be peace on the planet.And when women are kind to one another –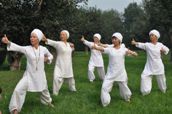 there will be no more tears.
There is a wealth of yogic teachings for you. Here are a few of my favorite meditation which you can practice.
Click HERE to read an inspiring article about a Chinese woman who attended her first Kundalini Yoga Women's Camp outside of Beijing.
Challenging Arm Exercises
Challenging arm exercises and meditations are a key technology of Kundalini Yoga. Using your breath, focus and relasing tension gives your the power to excel. Why? Yogic arm exercises strengthen your nervous system and expand your aura. And pregnant women...they are an excellent preparation for birthing!
> read more

> Practice: Confront Your Fears

Meditations For Women
> Call Upon The Maha Shakti
> Realize Your Power As Woman

Log onto www.3HO.org to find a Kundalini Yoga Instructor near you.