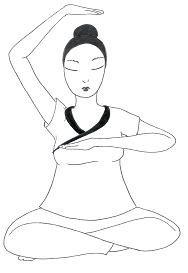 Sit comfortably in Easy Pose.
MUDRA: Arch your right arm over your head, palm facing down 6 inches above the crown of your head. Raise your left forearm parallel to the ground, with the hand touching your chest, palm facing down.
EYES: Your eyes are closed.
MANTRA: Chant aloud in a monotone:
I BLESS MYSELF. I BLESS MYSELF. I AM. I AM.