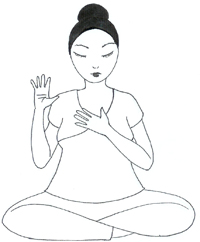 PART 1
Sit straight in a cross-legged position. Place your left hand on your heart and raise your right hand in front of your right shoulder, as though you are taking an oath. Elbows are relaxed down and fingers of both hands are spread.
EYES: Your eyes are 1/10th open and focused at the tip of the nose.
MANTRA: Chant the mantra, ONG NAMO, GURU DEV NAMO with the recording by Nirinjan Kaur.
TIME: Begin with 11 minutes, increasing to 28 minutes.
PART 2
Maintain the same posture, as you listen to the mantra and breathe long and deep.
TIME: Continue for 3 minutes. To end, inhale deeply, hold, and tighten your fingers. Squeeze your entire being and put as much pressure on your heart center as you can. Exhale. Repeat 2 more times. Relax.
COMMENTS:
"The Piscean Age of books, libraries, certifications, and all sensual, sexual existence will be totally consumed by the Information Age. We will live with a different understanding and we will walk with different attitudes. Those who want to be great have to be full of greatness, count their blessings, and answer the call of duty."
~ Yogi Bhajan, #NM0329