We are very enthusiastic to hold the Conscious Pregnancy Training in Warsaw, POLAND. Tarn Taran Kaur visited this growing 3HO community in the Fall and was very inspired by their warmth and spiritual endurance.
Sarbjot Kaur and Hari Dev Singh have pioneered Kundalini Yoga in Poland and their efforts can be witnessed throughout the country! Visit www.kundaliniyoga.pl for photos and information.
We will offer a two session Conscious Pregnancy Training in Warsaw in November 2010 and March 2011. The course will be imparted in English, with translation into Polish.
The training will be held at the Centrum Jupiter which can be easily reached by public transportation from the center of Warsaw.
> Conscious Pregnancy Training Information

> Poland Conscious Pregnancy Details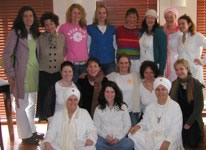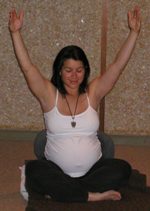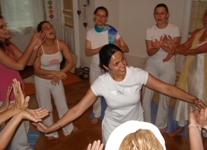 A KRI Recognized Specialty Training for Kundalini Yoga Teachers
Based on the teachings of Yogi Bhajan

Dates

November 3 – 9, 2010 & March 8 – 13 , 2011

Location
Centrum Jupiter entrance B, ul Towarowa 22, Warsaw, POLAND
Trainers

Tarn Taran Kaur Khalsa (USA)
Ek Ong Kaar Kaur (Dresden, Germany)
Sarbjot Kaur (Poland)
Guru Jagat Kaur (France)


Training fee

Early Bird Training Price is 900 Euro (3600 PLN)
* Pay the pre-registration deposit of  400 Euro (1600 PLn) BEFORE September 20
* The reminder of the training fee (500 Euro) can paid with one payment at the November session. Or 250 Euros can be paid at the November session and 250 Euro at the March session.

Full Training Price is 1000 Euro
* Pay the pre-registration deposit of  500 Euro AFTER September 20
* The reminder of the training fee (500 Euro) can paid with one payment at the November session. Or 250 Euros can be paid at the November session and 250 Euro at the March session.


What is included?
All training classes and lunch are included. Accommodations are NOT included in training fee.
Accommodations
Please contact Anna at bolcskeia@supermedia.pl about local accommodation information..
Training materials
Purchase separately the training manuals Conscious Pregnancy: The Gift of Giving Life and Conscious Pregnancy Yoga Manual. BUY NOW www.satnam.de